Overview
| | | |
| --- | --- | --- |
| " | Something strange is afoot in the Backyard. Armies of never-before-seen Wild Monsters have been spotted near your base, and it looks like they're headed right for you. Expected arrival is December 15th. | " |
Reward(s)
Event Information
The Wild Monster Invasion 2 is the third event held in Backyard  Monsters as well as the successor of the previous event, which is the Wild Monster Invasion. Like it's predecessor, the Wild Monster Invasion 2's mechanics are the same.
You defend your yard from waves of Wild Monsters like the previous event.
There are 30 waves in the event, and 2 bonus waves, making it a total of 32 waves. Again, this is featured in the previous event.
This event will feature new Monsters which cannot be unlocked via the Monster Locker for the time.
The event started 15th of December, 2011 and ended one week after. Shortly after this event, another event called Inferno was announced, this event allowed you to unlock the new Wild Monster Invasion 2 Monsters.
Waves and Monsters
All of the waves in this event feature New Monsters. Spurtz, Zagnoid, and Sabnox from the previous Wild Monster Invasion, as well as 5 new Monsters added for the event. This is also the first event to fully feature the enrage buff. Currently, this buff is not yet usable.
Gallery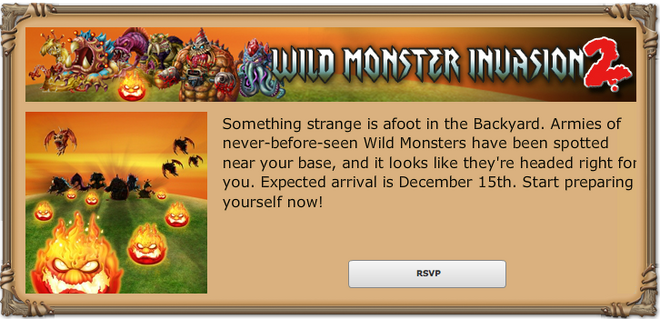 Community content is available under
CC-BY-SA
unless otherwise noted.