Glory to the kings of the Backyard, thy loyal subjects grant thee a magnificent palace! Woe be the fool who dares trespass the sovereignty of the Town Hall!
And indeed, any who dare come close to the Town Hall should be executed...unless your Yard is so porly designed...or unless you want your Town Hall to fall.
Brief Overview
The Town Hall, TH for short, is the first building you ever built on the Yard. It is a palace, a Parliament House, and a Silo all at once (exaggeration). Without the Town Hall, you fly into Damage Protection at alarming speed, and have truly nothing to build on your Yard. and that's a fact! Not that you'd recycle your Town Hall for anything.
On top of that, the Town Hall gives a generous helping of loot to any invader who can tear it down, 8% of everything you have. You can choose to defend it, or sometimes, sacrifice it. It all depends on how your Yard is built.
Regular Placement
How do you place the most important building in your Yard? Obviously in the centre, and surrounded with heavy defenses! Any designer worth half his salt will know this point.
Standard base designers protect their Town Hall at all costs, preventing marauders from getting the lion's share of loot. The Town Hall, as it is also a kind of Silo, is also used to render buildings un-cataprone. By wedging the most important towers (ADTs) between the Town Hall and another Silo, invaders will hardly ever dare catapult these towers (unless they have too many resources or are out for revenge).
"Unconventional" Placement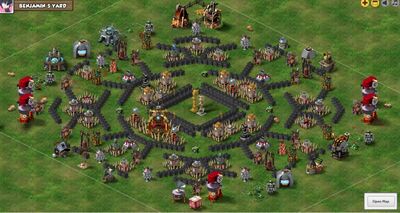 "This Player's very unconventional Yard gives attackers the ability to Fling Monsters in to the center."
And when you see where the Town Hall is, you wonder, " 'Is this a well-designed trap or a major defense flaw?' "
It SHOULD be a "well-designed trap". Sacrificing, or rather appearing to sacrifice, the Town Hall is not a lightly taken path, even for Emperors (big Empire builders). This Yard does use reverse psychology to stump potential invaders, but what do you think of it? "Weigh in" in the Comments below.
This is a recent post on Backyard Monsters' app page on Facebook. Credit for picture goes to a certain Benjamin and the app page,
Community content is available under
CC-BY-SA
unless otherwise noted.