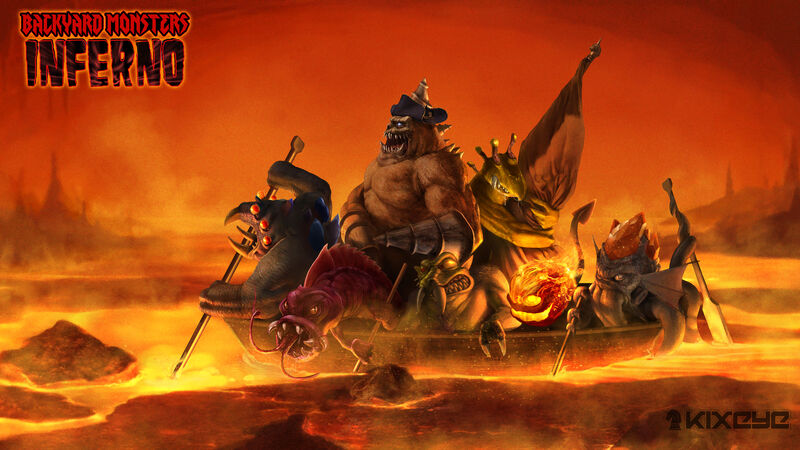 Brief Information
Inferno is an expansion of the game Backyard Monsters.
The Inferno typically has the same mechanics as those of the original base. You build a yard, defend it, upgrade it, and attack other yards. The expansion includes new Monsters, a total of 8, and new Buildings and Defensive Buildings. It also includes new Resources, which replace the other Resources in the Inferno Base.
There are new Resources which replace the Overworld Resources. These are:
Most of the new Buildings are often replacements of the Overworld ones. The Under Hall is a replacement for the Town Hall. The Sharpshooter Tower and the Blast Tower are replacements for the Sniper Tower and the Cannon Tower respectively, the Incubator is a replacement for the Hatchery, and so on.
The expansion serves as extra upgrades for your Overworld yard, because Inferno's Monsters can be transferred above, and some Inferno Buildings can be built in the Overworld. Also, you will need this expansion to build some of the newer buildings, like the Chaos Lab and the Chaos Factory, or raise Korath (because Korath is fed with Inferno Monsters),
Obtaining the base
It is a base that is located underground, where

Moloch and his Minions rule it. The base will be obtainable once you upgrade your Town Hall to level 5. Once you have, there will be several earthquakes that will happen within your base, and as these happen, you will be attacked by Wild Monster Invasion 2 Monsters. After several earthquakes has happened, a crack will appear. Moloch introduces himself to you, claiming that he is the lord of the Inferno. The next day, another earthquake will appear. The result of these subquesent earthquakes and attacks of WM2 Monsters will make the crack grow larger and larger, eventually showing the Skull of Doom.

Once the Skull of Doom/Inferno Cavern grows to its final stage, Moloch will say to you that he can bring his troops of Monsters up or down whenever he likes. This gives you the chance to enter the Skull of Doom, and attack his bases. There were 13 bases in total to obtain the Inferno base, but as of March 2012, it has been reduced to 7.
Once you click on the Skull of Doom, you get a map of all 13(7) bases. You must destroy them in order. Once you get to the deeper areas of Inferno (7th(4th) base) Moloch claims that the sulphuric air will suffocate your Monsters. This means if you attack his base, your Overworld Monsters (Including Champions) will be damaged over-time by the sulphuric air. As you get deeper, the sulphuric air damages more. There is no way to prevent the damage-over-time effect.
As you get deeper, Moloch will introduce you to Monsters and Defensive Buildings of Inferno. Deeper parts of the bases are much stronger than those previously encountered, and each progressing bases has newer Monsters and Defenses added into them.
Once you get to Moloch's final base, it will look like this.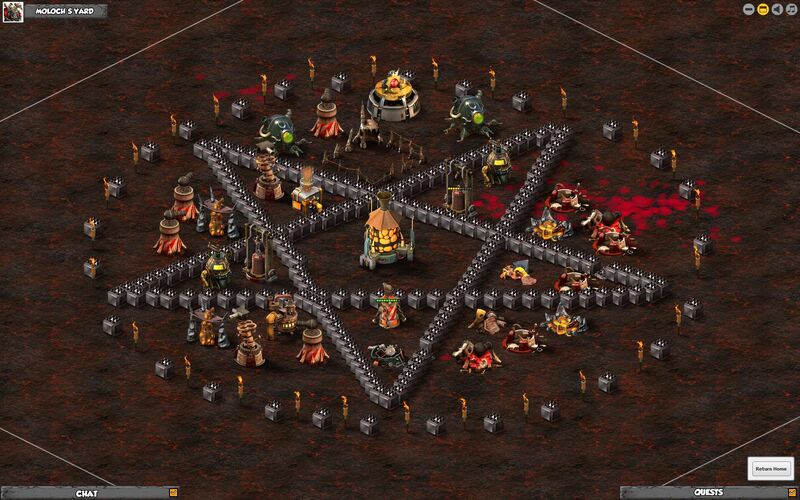 Once you have destroyed the final base, the Inferno yard is all yours. You can now use the resources you have obtained from the previous battles to build your very own Inferno Base!
Monsters
Inferno Monsters have similar mechanics as that of the Overworld Monsters. They attack, have Favorite Targets, and of course, all are hatched. However, there are some differences between the Overworld Monsters and these Monsters in general. First, these Monsters are hatched by Magma, which is the substitute of Goo in Inferno. Second, each Inferno Monster with a Favorite Target will deal double damage if they attack the Favorite Targets. Third, Inferno Monsters' abilities do not need to be unlocked. These abilities are already innate and built-in.
Some of the Monsters are similar to those of the Overworld Monsters. For example, a Spurtz has many similarities of a Pokey. For example, each have low health, decent damage, and cheap production. There are some Monsters in Inferno, however, to have very unique properties that it cannot be compared to other Monsters. Like Balthazar, it is the only Monster to target enemy Monsters first, and is the fastest Monster of all.
Here is a list of Monsters that are obtainable in Inferno
Spurtz - Spurtz are like the Pokies of Inferno. Both have relatively the same style of stats (though Spurtz has better stats), and both are cheap to make. It is noted it is the only anything Monster that is obtainable before you get King Wormzer, so you will used them alot.
Zagnoid - Zagnoids are somewhat cross-breeds of the three Overworld tank Monsters which are Octo-ooze, Ichi, and Crabatron. At level 1, Zagnoids have health higher than Octo-oozes, but lower than Ichi. However, Zagnoids have higher damage than both. At level 5, Zagnoids have health that is nearly as much as Crabatrons, and both have same damage. They have double damage when attacking Defensive Towers, so Zagnoids have the highest damage among the four.
Defensive Buildings
Main Article:Defensive Buildings
Like the Overworld, the Inferno also has its own array of Defenses. Some Defenses are like those of the Overworld's, with different appearance but same mechanism. There are some which mechanism is very unique and cannot be compared to the Overworld Defense, like the Magma Tower, or the Quake Tower.
Gallery
Buildings
Others
Trivia
Inferno is the first expansion pack of Backyard Monsters.
Inferno introduces the most kinds of Buildings in one update. 
Community content is available under
CC-BY-SA
unless otherwise noted.