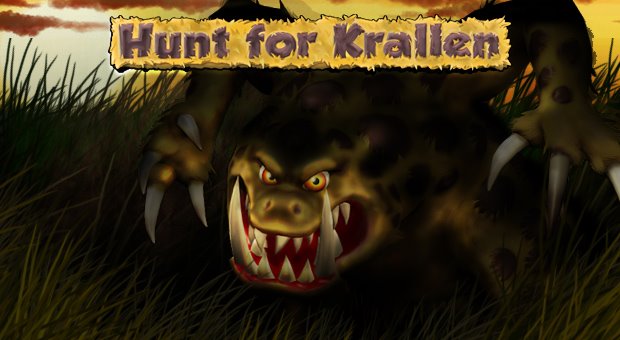 Overview
| | | |
| --- | --- | --- |
| " | Power doesn't come easy in the Backyard Universe. It's born in blood and the heat of battle. A new Champion Monster known as Krallen, is on the hunt for a master. He answers only to the best. Prove yourself on June 11. | " |
Reward(s)
REWARD IMAGE
REWARD NAME
LOOT

IMPRESIONATE KRALLEN
250.000.000

GET KRALLEN
500.000.000

KRALLEN LV5
1.500.000.000

KRALLEN LOOT BUFF HABILITY (+LV5)

HABILITY

700.000.000

LV5

1.500.000.000
Event Information
Hunt for Krallen is an event that was held June 22, 2012. It is now a permanent event since that date.
This event features a New Champion whose name is Krallen. In order to obtain the Champion, you must fill up a weekly quota which focuses on Looting. You must loot Resources to fill up the weekly quota in order to obtain Krallen. Note that Krallen will be in your Champion Cage the week after you have completed the quota.
However, once you have obtained Krallen, this doesn't mean that it will stay with you forever. You must fill up the weekly quota again to level it up. If you miss just one week of leveling up your Krallen, it will leave. If your Krallen leaves, you will have to start again. Krallen will revert it's level back to Level 1 again, so be careful. 
Krallen will only have Five Levels. Once you have achieved it's final level, it will be yours permanently.
Update: The event Hunt for Krallen is now a permanent event and the event is now held weekly.
Gallery
Trivia
KIXEYE claimed that the event is over, although you can still obtain Krallen anytime.
This is a NEVER ENDING EVENT and will only disappear when you get Krallen to level 5.
The ending week in asia was tuesday to get Krallen, while in USA is Monday as the default.
It is the longest event before it became permanent while the shortest event is the Brukkarg War event, lasting only 4 days.
Community content is available under
CC-BY-SA
unless otherwise noted.